Posted by Double Compile on Monday, August 30. 2010 in Open Source
One gentlemen whose talks I always enjoy watching is Simon Wardley, a noted cloud personality and all around knowledgeable guy. He posted a message on Twitter earlier today about a suggestion he added to Microsoft's Azure feedback site.

Here's the blurb at the top of the Azure site:
Hi I'm Mike Wickstrand, Senior Director of Product Planning for Windows Azure. If you have something you need from Windows Azure, please tell us what it is and vote for other's[sic] ideas. I put a few things on the list just to get you started, but feel free to add your own! We want to better understand what you need from Windows Azure and to build plans around how we make the things that "bubble to the top" a reality for our customers in the future.
The release of OpenStack really backs up the call for truly open cloud platforms. Here's our chance to tell Microsoft exactly what we want: Azure to be Open Source software. Let's tell them to get their head out of the clouds.

0 Comments
More...
Posted by Double Compile on Thursday, June 26. 2008 in Open Source
Eclipse Ganymede came out today.  (Those who donated could have gotten it earlier).
Here's a screenshot of my download speed for Ganymede.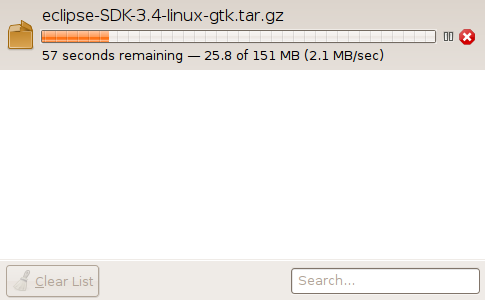 Thanks for ~2.0MiB/sec download speeds, Verizon FiOS!
Now I'm about to install the latest Integration version of PDT, so we'll see how that goes.
2 Comments
More...
Posted by Double Compile on Wednesday, October 17. 2007 in Open Source
Yesterday morning, Sam Spilsbury posted a mildly amusing image about the "Truth About the Internet" in a blog featured on the Planet Compiz Fusion news feed.
He has since removed the blog entry and issued an apology, no doubt at the request of Novell or some other authority figure over the Compiz Fusion project.
Anyway, since the post has been removed, I wanted to make sure it was still available

1 Comment
More...
Page 1 of 1, totaling 3 entries